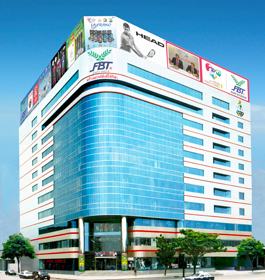 FBT currently runs all-inclusive sporting business. FBT acts as a manufacturer and a distributor by owning large-scaled factories for manufacturing of sporting equipment and sports clothing. The factories manufacture wide ranges of sports products which are certified by various international standards. FBT also has FBT Sport Complex which is the only sporting department store in Thailand and is the biggest one in Asia. Moreover, FBT has over 300 stores nationwide and exports its products to over 40 countries worldwide.
Our Goals
       FBT has sponsored many sporting events in Thailand and has continuously supported sports in every level. The aims are to return goodness to the society, to enhance the access of Thai people to sports for good health and to improve Thai society through sports. FBT has also sponsored other sporting events in the region which helps enhancing sporting society in ASEAN.
Our Vision
       Stepping into the 7th decade, FBT still determines to improve quality products made by Thai people. FBT wants everybody to play sports happily with clothing and equipment that are in high quality with affordable price. FBT Creating Excellence in Sports.